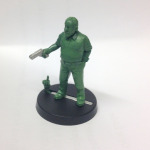 Now Shipping!
Gangster. Wise Guy. Goodfella.
Big T is one mean dude, the quintessential modern suburban gangster. Whether battling rival mobs for a slice of the action, zombie hoards or invaders from space Big T is the perfect addition to your collection.
Big T comes with an optional cigar hand, so he is just as at home in the board room, as out on the mean streets.
The miniature is standard 28mm scale. Sculpted by Ian Mountain and cast in fine quality resin, and comes supplied unpainted, with a 25mm round slotta base.
Limited to 100.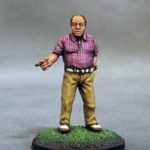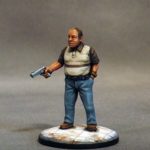 Get your Big-T here while stocks last
Please note. This initial run of 100 resin Big T's is the only resin run we will do. He may be recast at some point in white metal.